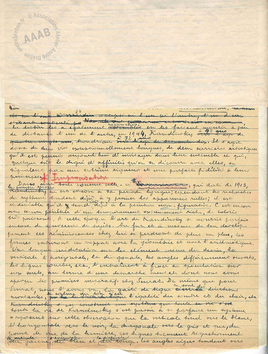 Eighth Lecture
Author
Author André BretonPeople cited Charles Baudelaire, Georges Braque, Giorgio De Chirico, Vassily Kandinsky, Paul Klee, Isidore Ducasse, dit comte de Lautréamont, Stéphane Mallarmé, Man Ray, Arthur Rimbaud, Guillaume Apollinaire, Jean ou Hans Arp, Giacomo Balla, Marc Chagall, Salvador Dalí, Marcel Duchamp, Max Ernst, Arshile Gorky, Alfred Jarry, André Masson, Piet Mondrian, Francis Picabia, Pablo Picasso, Yves Tanguy
Description
Manuscript of the eighth Breton lecture delivered on February 12th, 1946. Through topics such as Dada, Tanguy, Dalí, Ernst and Futurism, André Breton "returns to the antinomy of necessity and freedom" (Inédits I [Unpublished Texts] I, t. III, 1992, p. 1243).
The eighth lecture of Breton bears the trace of haste; the events shaking up the program (Pierre Mabille himself will have to leave the island in March), the poet declares from the outset that he will give several lectures in one; eleven were planned in all. The lecture focuses on the idea of freedom and on the conflicting and problematic relations of art with convention, through a quick presentation on Dada, and the work of some surrealist painters (Tanguy, Dalí, Max Ernst) and finally Futurism. The text was published in Inédits I (Unpublished Texts I) of the third volume of the Pléiade. [Atelier André Breton website, 2005].
Lectures (Haiti, Martinique) 1945-1946.
Eighth lecture, autograph manuscript, February 12th, 1946.
- 12 pages grand in-4° Autograph manuscript in ink with numerous erasures and corrections by Breton of this eighth lecture given in Haiti on the avant-garde movement.
"The Eskimos of which I showed to you last week, who make poetically interesting masks, seem very wise to me when, gathered on the occasion of a celebration, they organize a sort of competition between the ceremony masks newly designed based on their favorite which is the one that makes them laugh the most. It is indeed a distortion of the "civilized" mind to think that to laugh in front of a piece of art is necessarily disparaging. On the contrary, the modern mind laughs in front of a piece of art in order to show its provocative nature, and that this provocative nature stands in turn for the originality of this piece of art characterized externally by its uniqueness". [...]
"Because of the new conditions in Europe created by the war, disrespect has increased tremendously, a negation of the generally admitted values strives to become total, strikingly, both among the "victors" and among the "vanquished." The intellectual despair is the same, and only what I call "black humor" helps to overcome it: in New York Duchamp signed a reproduction of The Mona Lisa adorned with a lovely moustache; in Cologne, visitors to the Max Ernst's exhibition must enter and exit through public urinals; in Paris, Picabia conceived of a picture made of an empty frame nailed to the floor with strings tightened across it and with a living monkey chained to it, in Hanover, Schwitters is using a technique of collage, simple assemblage, to engage in erecting an indefinite and unachievable monument adding day-to-day all kinds of materials unsuitable for use including household waste. [...]
"I agree, naturally, that "The Bride Stripped Bare" is at first glance a hermetic work. Because of the lack of time I can only advise those interested to refer to the paper I wrote about it in my book "Surrealism and painting". "The Bride Stripped Bare" is the greatest work of imagination of the 20th century on a purely artistic field. And presently it is also the one which displays the greatest power of repercussion."
This signed autograph manuscript includes also a number of texts assembled and glued together by Breton. [Auction catalogue, 2003]
Bibliography
- André Breton (Édition de Marguerite Bonnet avec la collaboration de Philippe Bernier, Marie-Claire Dumas, Étienne-Alain Hubert et José Pierre), Inédits I, Œuvres complètes, tome III, Bibliothèque de la Pléiade, Paris, Gallimard, 1999, p. 322-342.
Place of origin