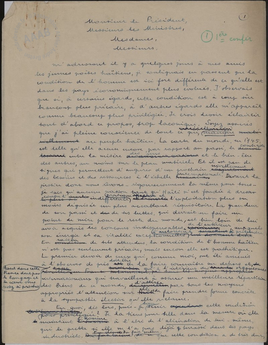 First Lecture
The Surrealism
Author
Author André BretonPeople cited Abd-el-Krim, Eckhart, Friedrich Engels, Ludwig Feuerbach, Sigmund Freud, Georg Wilhelm Friedrich Hegel, Héraclite, Emmanuel Kant, Pierre Mabille, Karl Marx, Arthur Rimbaud, Robert Desnos, Marcel Duchamp, Marcel Jean, Maurice Nadeau
Description
Manuscript of a lecture by André Breton on December 20th, 1945 à Port-au-Prince; first of a series of eight.
Arrived in Port-au-Prince with Elisa on December 4th, 1945, Breton gave a series of lectures beginning from December 20th, of which we have here the first one, dedicated to Surrealism, to "six hundred young people, most of them being academic students" and some appalled official representatives. For more information about the background of this lecture, see Alentours I in the third volume of the Pléiade. The lecture deals with the history of Surrealism. The beginning of it is of particular interest, as Breton expresses the sense of a deep kinship with the land of Haiti. For more than 20 years, the work of Breton will be characterized by an endeavor to connect the primitive and the modern, the magic and the artistic. [Atelier André Breton website, 2005]
Lectures (Haiti, Martinique) 1945-1946.
First Lecture, autograph manuscript, December 20, 1945.
- 14 pages folio in-4°, manuscript of the first draft with erasures and corrections of this first lecture given by Breton in Haiti.
"Be sure that I am well aware of all that the Haitian people lack. The world map, in 1945, is such that it still brings to light, by historical standards, a disparity in comparison with the others, at least on the physical side. And there are few signs which allow to foresee a leveling of needs and resources on an international scale. In the face of justice we dream — strictly alike for all — and I know that no country is more entitled than Haiti to set for an unrelenting indictment against the more or less disguised exploitation. The glory of its past and of its struggles, which should be a focal point for the rest of the world, is far from having been granted the indispensable external assistance to which it should be entitled by its exceptional energy and vitality." [Auction catalogue, 2003]
The transcription of this conference is available on "Mécanique universelle"
Bibliography
- André Breton, « Le Surréalisme », Conjonction, Port-au-Prince, 1er janvier 1946, n°1, p. 68.
- André Breton, (Édition de Marguerite Bonnet avec la collaboration de Philippe Bernier, Marie-Claire Dumas, Étienne-Alain Hubert et José Pierre), « Le Surréalisme », [Alentours I], Œuvres complètes, tome III, Bibliothèque de la Pléiade, Paris, Gallimard, 1999, pages 150 à 167, et les Notes, p.1216-1219. Voir aussi, dans le même volume, « [Conférences d'Haïti, I] », [Inédits I], p. 212.
Place of origin