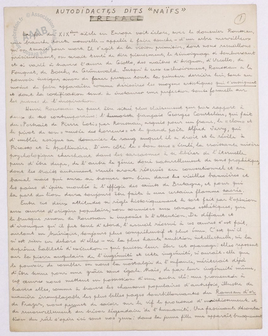 Self-taught "naive" artists
Author
Author André BretonPeople cited Guillaume Apollinaire, Hyeronimus Bosch, Cimabue, Georges Courteline, Jean Fouquet, James George Frazer, Giotto, Mathias Grünewald, Sidney Janis, Alfred Jarry, Pierre Loti, Maître d'Avignon, Friedrich von Hardenberg, dit Novalis, Pablo Picasso, Henri, dit le Douanier Rousseau, Paolo Uccello
Description
André Breton's autograph manuscript about the Douanier Rousseau, published in Le Surréalisme et la Peinture in 1945.
Together with folk art and the art of the insane, naïve art would remain one of Breton's great enduring passions. Approaching such practices as a critic is not easy, and it is inevitably through cultural detours that he came to understand, to take one example, the work of the douanier Rousseau. Courteline and Jarry, as well as, much earlier, Ucello and Giotto, help to frame a body of work that requires being situated, placed in perspective, despite and because of it's a-cultural dimension.
Autograph manuscript signed, undated.
- 2 pages in-4° folio. Manuscript titled and signed in ink by Breton of this text relating to the "douanier Rousseau":
"Henri Rousseau can only be viewed more clearly in relation to two of his contemporaries: the French humourist, Georges Courteline, who made Rousseau's Portrait of Pierre Loti, acquired for one franc, the showpiece and pivot of his "museum of horrors" and the great poet, Alfred Jarry, who from the outset assigned to the customs officer the rank to which he was entitled, introducing him to Picasso and Apollinaire... Although at first uncertain and ironic, the reception given to these works has become increasingly sympathetic and emotional, especially in America. This is because there is nothing outside them - neither the highest intellectual ambition nor the supreme skill of execution - that can take away this privilege: they rest on the cornerstone of ingenuity." [Sale Catalogue, 2003]
The date 1942 is given in the Œuvres complètes, IV, page 1353, with a note indicating this manuscript as the source. [Atelier André Breton website, 2014]
Bibliography
- André Breton (Édition publiée sous la direction d'Étienne-Alain Hubert avec la collaboration de Philippe Bernier et Marie-Claire Dumas), Le Surréalisme et la Peinture, Œuvres complètes, tome IV, Écrits sur l'art et autres textes, Bibliothèque de la Pléiade, Paris, Gallimard, 2008, pages 703-706.