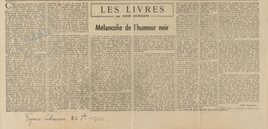 Les Livres - Mélancolie de l'humour noir
Le Figaro littéraire du 26 octobre 1950
Author
Author André RousseauxPeople cited Alphonse Allais, Charles Baudelaire, Adolf Hitler, Isidore Ducasse, dit comte de Lautréamont, Stéphane Mallarmé, Jacques Tristan, alias Jacques Vaché, Jacques Rigaut, Arthur Rimbaud, Joseph Staline, Auguste de Villiers de L'Isle-Adam, André Breton, Alfred Jarry, Arpad Mezei
Description
Article d'André Rousseaux paru le 26 octobre 1950 dans le Figaro Littéraire.
Coupure de presse insérée par André Breton dans son exemplaire d'Anthologie de l'humour noir. [site André Breton, 2019]
See also
1 Work
False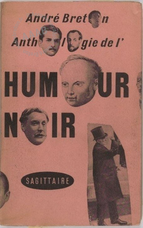 Click to order the image
Édition en partie originale de cet essai anthologique publié au Sagittaire en 1950.
Cinq images, une notice descriptive, un lien.