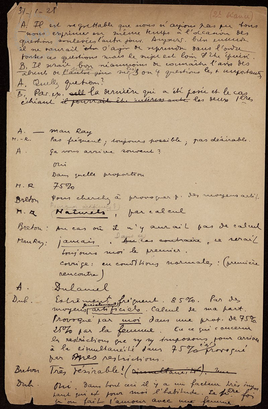 Enquête sur la sexualité
Deuxième séance
Author
Authors Louis Aragon, Jacques Baron, Jacques-André Boiffard, Marcel Noll, Jacques Prévert, Man Ray, Georges Sadoul, Pierre Unik, André Breton, Marcel Duchamp, Benjamin Péret, Raymond Queneau, Yves Tanguy
Description
Handwritten manuscript of the second session on sexuality, January 31st, 1928.
With the support of a few friends who were absent at the first session (Aragon, Boiffard, Duhamel, Sadoul, Noll, Man Ray), the Surrealists resume their investigation on sexuality with a more personal tone. Inspired by psychoanalysis, they end the session discussing childhood memories, some of them very private, and one of them admits to never having experienced a complete erection. Still, it seems a kind of unrest persists, ascribed by Sadoul to a lack of vocabulary. The unrest seems to reside in the sexuality of each man, Duhamel being the happiest in this respect. The question of simulation, on which the group goes into great depths, is related to comedy, Prévert claiming definitively the right to pretend. This subject, given the exclusively male point of view with which this investigation is lead, is raised by Aragon, who demands an "equality of rights." The question of fetishism is on the table, which brings about a theme of perversity: Breton declares himself excited by "everything pertaining to the field of perversity" – and then corrects himself verbatim … [Atelier André Breton site, 2005]
Handwritten texts, January 31st, 1928.
- 2nd session: 22 pages grand in-4°, foliated, handwritten with black ink by André Breton and by most of the participants: Louis Aragon, Man Ray, Marcel Duchamp, Jacques Boiffard, Raymond Queneau, Georges Sadoul, Benjamin Péret, Marcel Noll, Jacques Baron, Pierre Unik, Jacques Prévert and Yves Tanguy :
"Aragon. – A man and a woman are making love. To what extent and in which proportion are they likely to orgasm together? Does this proportion vary according to the familiarity one has of the woman ? Is this simultaneity desirable? What does Man Ray think about it?
Man Ray: Not frequent. Always possible. Not desirable. » (Corrections). [Auction catalogue, 2003]
Bibliography
- José Pierre, (présenté et annoté par), Archives du surréalisme publiées sous l'égide d'Actual, tome 4, Recherches sur la sexualité, janvier 1928 - août 1932, Paris, Gallimard, 1990, « Deuxième séance, 31 janvier 1928 », pages 57 à 78.
- « Recherches sur la sexualité, Part d'objectivité, déterminations individuelles, degré de conscience », La Révolution surréaliste, n° 11, 15 mars 1928, p. 36-40.