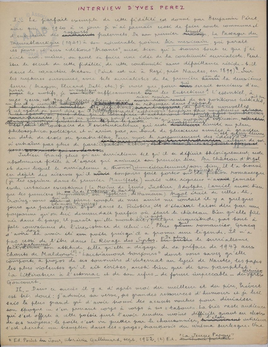 Interview with Yves Peres
Author
Authors Yves Pérès, André BretonPeople cited Louis Aragon, Charles Baudelaire, Tristan Corbière, Barthélemy Prosper Enfantin, dit Père Enfantin, Maurice Fourré, Remy de Gourmont, Knut Hamsun, Thomas Hardy, Joris-Karl Huysmans, Isidore Ducasse, dit comte de Lautréamont, Matthew Gregory Lewis, Stéphane Mallarmé, Gérard de Nerval, Jacques Prévert, Yves Pérès, Arthur Rimbaud, Maurice Scève, Guillaume Apollinaire, Salvador Dalí, Paul Éluard, Charles Filiger, Louis Poirier, dit Julien Gracq, Valentine Hugo, Alfred Jarry, Benjamin Péret, Yves Tanguy
Description
Text of an interview with Breton by Yves Pérès conducted in Paris on 28 September 1952 and published on 10 October in La Liberté du Morbihan.
'Surrealism isn't dead' is how Breton's mood could be summed up in this interview with Yves Pérès, conducted in Paris on 28 September 1952 and plagiarising what Paul Adam said in 1891. Published on 10 October in La Liberté du Morbihan, the text examines Breton's links with Brittany, while placing centre stage the recurring question during the early 1950s of surrealism's continuing relevance at a time when some people would have liked to seen it buried. [Atelier André Breton website, 2003]

Handwritten manuscript signed, Paris, 28 September 1952.
- 3 pages in-4° titled in red ink: 'Interview with Yves Perez', handwritten, dated and signed in ink by Breton.
Questioned by Yves Pérès about whether surrealism is dead, which writers have remained faithful to it, and whether he considers Julien Gracq to be in the surrealist orbit, Breton answers: 'Benjamin Péret is the perfect example of this fidelity. We've been working together and keeping fraternal relations from 1920 to the present... Julien Gracq remains absolutely faithful to the spirit animating his first book Au Château d'Argol, which surrealism immediately recognised as its own, rather than to surrealism as it is theoretically defined. He found it in spite of the fundamental reservations we have always had about the principle of novelistic fiction (as I noted in the first Manifesto) [...] By promoting a legend Gracq shows himself to be a poet rather than a novelist. '[...] Prévert is very gifted: I admire his verve and great reserves of humour and I thank him for having found appropriate ways to illuminate the age he lives in by tackling its "taboos"…' Numerous erasures and corrections. [sale catalogue, 2003]
*This entry was translated from the French by Michael Richardson.
Bibliography
André Breton (Édition de Marguerite Bonnet avec la collaboration de Philippe Bernier, Marie-Claire Dumas, Étienne-Alain Hubert et José Pierre), Appendices aux « Entretiens », Œuvres complètes, tome III, Bibliothèque de la Pléiade, Paris, Gallimard, 1999, p. 643-649, notice p. 1332-1333