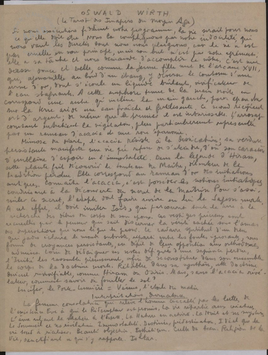 Description
André Breton's autograph manuscript in preparation for Arcane 17; black pencil, undated, unsigned.
Research on astrology and esoterism. Arcane 17 (Arcanum 17) sees the constant emergence of a culture which Breton intently explores. Browsing through the pages of Court de Gebelin, the illuminist, passionate about the idea of a language of origins, equally tries to interpret the symbols of tarots. The central figures of the Star and of the Woman, Isis of whom Mélusine is a reflection, appear here in blatant erudition, before alchemy would restore them to literature. [Atelier André Breton website, 2005].
Autograph text, undated [1944?]
- 1 page folio in-4°, "Oswald Wirth", autograph text written in pencil by André Breton on Le Tarot des imagiers du Moyen-Âge.
"It is a sweet goddess, as beautiful as the naked girl on Arcane XVII, kneeling by a pond into which she pours the contents of a golden urn…"
Arcane 17 was also inspired by Court de Gebelin. (La Pléiade, Tome III, Note, page 1189). [Auction catalogue, 2003]
See also
1 Work
False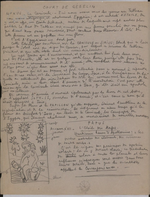 Click to order the image