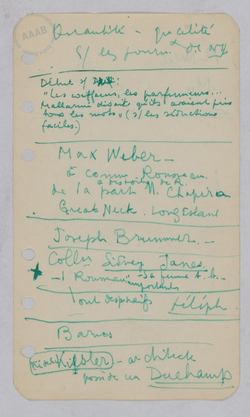 Description
Handwritten notes by André Breton, made just as he had arrived in New York.
Except for a few words in an obviously native hand, these notes from 1941, written in Breton's own hand, constitute an unembellished document not devoid of interest about the poet's life in New York in very first days: encounters, things seen and literary notes in a sporadic form giving traces of daily life. [Atelier André Breton website, 2005]
Handwritten texts, sd.
- 3 independent 18-count sheets of a notebook handwritten by Breton in green ink, red ink, and black pencil in which he notes names of people contacted in New York, bibliographic remarks and appointments, the address of the Museum of Natural History in New York. [sale catalogue, 2003]
*This entry was translated from the French by Michael Richardson.