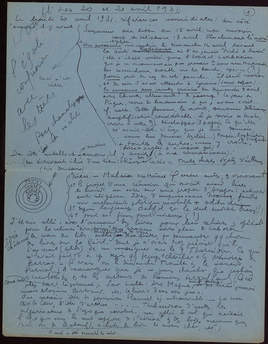 Communicating vessels
Author
Author André BretonPeople cited Louis Aragon, Barras, Batifol, Emmanuel Berl, Louis Jacques Napoléon Bertrand, dit Aloysius Bertrand, Simone Derlys, Nicolas Flamel, Gracchus, Jean Lorrain, René Purnal, Arthur Rimbaud, Pierre de Ronsard, Jean-Paul Samson, Jean Thibaudeau, Pierre Unik, Paul Éluard, Henri Jeanson, Raymond Lulle
Description
Handwritten notes by André Breton, dated 20 and 21 April 1931.
These drafts of Les Vases communicants are preparations for writing the second part of the book, the one that affects a form close to the diary. But by reading the few notes left here by Breton we can measure the extent to which the published text developed from a long and patient elaboration, very far from the 'raw document' aspect that the diary form might suggest. Les Vases communicants directly exploits two dream narratives at the heart of these fragments, and leaves to one side the days and nights of 20 and 21 April 1931. [Atelier André Breton website, 2003]

Autograph manuscript, April 20-21, 1931.
- 3 handwritten pages in-4° in ink on blue paper folioed and dated 230 and 21 April 1931. In this manuscript, Breton notes the minor events, encounters, and sights that took place during these two days in April, both from the 'amorous side' and the 'intellectual side'. This manuscript 'presents a sort of scenario of what will become the second part of Les Vases communicants in a telegraphic style. (Œuvres complètes, Volume II, Notes pages 1352 and 1353.) [sale catalogue, 2003].
*This entry was translated from the French by Michael Richardson.
1 Comment
"Vases communicants" avec deux "m" dans le titre. Merci.
01/08/2009