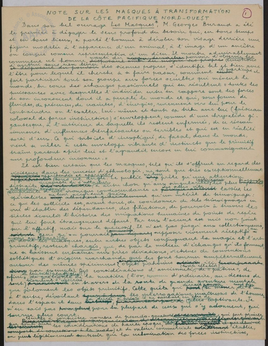 Description
Manuscrit d'un article d'André Breton daté du 11 mai 1950 et paru en juin 1950 dans la revue Neuf à propos de l'ouvrage de Georges Buraud, Les Masques.
Manuscrit autographe signé, 11 mai 1950.
- 2 pages 1/4 in-4°, foliotées au crayon rouge, manuscrites à l'encre verte, titrées, datées et signées par André Breton :
« Dans son bel ouvrage, "Les Masques", M. Georges Buraud a été le premier à dégager le sens profond du besoin qui, en tous temps et en tous lieux, a porté l'homme à dérober son visage derrière une figure modelée à l'apparence d'un animal, à l'image d'un ancêtre ou conçue comme représentation d'un dieu ... Ce qui subsiste d'inexpliqué, de fatal dans le monde, vient se mêler à cette enveloppe vibrante d'instincts que le primitif traîne partout après lui et l'agrandit encore en lui communiquant une profondeur inconnue. »
Ratures et corrections. [catalogue de la vente, 2003]
Bibliography
- André Breton, « Note sur les masques à transformation de la côte pacifique nord-ouest », in Neuf, revue de la Maison de la Médecine, numéro 1, juin 1950.
- André Breton (Édition de Marguerite Bonnet avec la collaboration de Philippe Bernier, Marie-Claire Dumas, Étienne-Alain Hubert et José Pierre), Alentours II, Œuvres complètes, tome III, Bibliothèque de la Pléiade, Paris, Gallimard, 1999, p. 1029-1030, notice p. 1446-1447 (mais contrairement à ce qu'écrit Marguerite Bonnet, Breton avait bien deux masques à transformation dans sa collection. L'un d'eux illustre d'ailleurs le n°1 de Neuf).
- Michel Izard (éd.), Cahier de l'Herne Claude Lévi-Strauss, Paris, Éditions de l'Herne, 2004, texte d'André Breton reproduit p. 149-151
See also
2 Works
False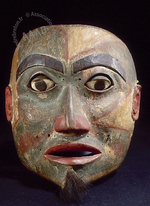 Click to order the image
-

Masque représentant un visage aux traits naturalistes.
Une image, une notice descriptive.
False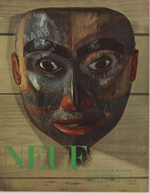 Click to order the image
-

Premier numéro de la revue Neuf dirigée par Robert Delpire et publiée en 1950 à Paris.
Deux images, une notice descriptive, un lien.