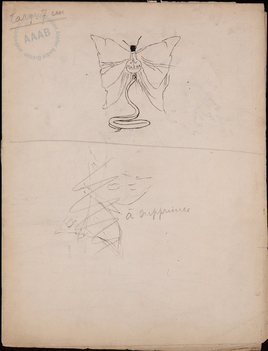 Description
Dessins originaux de 1926 faits par Nadja à la mine de plomb et à l'encre sur un double feuillet de papier vergé plié en deux.
Dessins, sd [1926].
La chemise [du lot 2123_1] encarte un double feuillet sur papier vergé Montgolfier (32 x 24 cm)
- Sur la première page du premier feuillet, dessin original à l'encre titré « Mazda ».
Dans l'édition de Nadja, André Breton écrit :
« Elle s'est plue à se figurer sous l'apparence d'un papillon dont le corps serait formé par une lampe "Mazda" (Nadja) vers lequel se dresserait un serpent charmé et depuis je n'ai pu voir sans trouble cligner l'affiche lumineuse de Mazda sur les grands boulevards. »
- Sur la même page figure une esquisse de dessin de Nadja représentant un papillon avec une note de Breton : « à supprimer ».
- Sur les 2e et 3e pages figure un dessin original au crayon noir de Nadja titré « À mort », reproduit dans l'édition de 1928 de Nadja sous le titre « L'Âme du blé ». [catalogue de la vente, 2003]
Bibliography
- André Breton (Édition de Marguerite Bonnet avec la collaboration de Philippe Bernier, Étienne-Alain Hubert et José Pierre), Nadja, Œuvres complètes, tome I, Bibliothèque de la Pléiade, Paris, Gallimard, 1988, pages 727.
See also
1 Work
False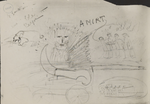 Click to order the image
-
Tirage photographique d'un dessin de Nadja utilisé par Breton pour illustrer Nadja.
Deux images, une notice courte, des liens.