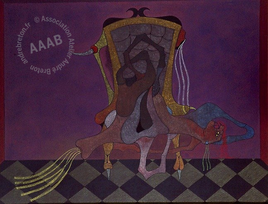 Description
Part of a whole set inspired by the Marquis de Sade, this painting was shown at the exhibition Brousse au-devant de Camacho in 1964 at the Galerie Mathias Fels, and was given to André Breton by the artist.
In the preface which he wrote for the exhibition, Breton declared :
"There is no better example today than Camacho to give lie to the assertion that Surrealist painting seems only rarely to care about beautiful painting." André Breton (« Brousse au-devant de Camacho », In. Le surréalisme et la peinture, Nouvelle édition revue et corrigée, 1928-1965, Paris, Gallimard, 1965, p. 406).
Bibliography
- Jorge Camacho, Lettre à la Galerie 1900-2000, Almonte, 29 juillet 2002
Exhibition place