Camacho
Exposition des œuvres de Camacho à la Galerie Matthias Fels du 8 au 31 mai 1964.
Exhibition place
2 Works
False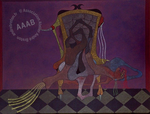 Click to order the image
Huile sur toile datée de 1964, présentée à la Galerie Mathias Fels la même année et offerte à André Breton par l'artiste.
Une image, une notice descriptive, une bibliographie, une exposition.
False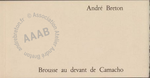 Click to order the image