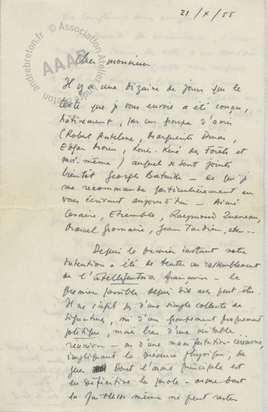 [Il y a une dizaine de jours que le texte que je vous envoie a été conçu...]
Lettre datée de Paris, le 21 octobre 1955
Author
Author Dionys MascoloPeople cited Marguerite Duras, René Étiemble, Marcel Gromaire, Edgar Morin, Jean Tardieu, Robert Antelme, Georges Bataille, Aimé Césaire, Louis-René des Forêts, Raymond QueneauLetter to André Breton
Description
Lettre de Dionys Mascolo à André Breton datée de Paris le 21 octobre 1955.
Lettre autographe datée de 1955 et signée de Dionys Mascolo à André Breton jointe à l'exemplaire Le Communisme du premier.
Dans cette lettre, Dionys Mascolo demande à André Breton de participer à une manifestation en compagnie de Marguerite Duras, Robert Antelme, Georges Bataille, Aimé Césaire, Raymond Queneau, etc. [catalogue de la vente, 2003]
Place of origin
Place of destination
See also
1 Work
False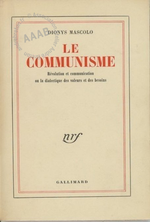 Click to order the image
Essai de Dionys Mascolo paru en 1953 chez Gallimard à Paris.
Trois images, une notice descriptive, un lien.