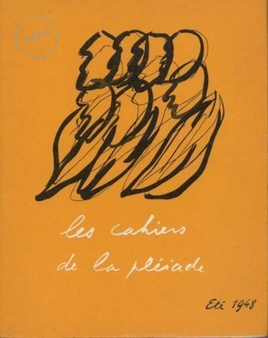 Les Cahiers de la Pléiade, 5
n° 5
Author
Edited by Jean PaulhanCover design by Jean FautrierText by Jacques Audiberti, Dominique Aury, Édith Boissonnas, Michel Cournot, Louis-Ferdinand Céline, Emily Dickinson, Jean Dubuffet, Jean Grenier, Marcel Lecomte, Wladimir Weidlé, André Breton, Jean Ferry, Charles-Ferdinand Ramuz, Henri Thomas
Description
Numéro 5, publié à l'été 1948, de cette revue dirigée par Jean Paulhan à Paris.
Collection complète de cette revue qui a remplacé pendant un temps, après la guerre, la Nouvelle Revue française.
Présentation typographique de Jean Fautrier. [catalogue de la vente, 2003]
Textes recueillis par Jean Paulhan. [site André Breton, 2021]
Table of Contents
Charles-Ferdinand Ramuz - Légende
Henri Thomas - La poésie
Dominique Aury - Les romanciers du Point du jour
Wladimir Weidlé - Littérature universelle
Jacques Audiberti - Palestine
Louis-Ferdinand Céline - Casse-pipe
Jean Grenier - La Liberté contre les Valeurs
Michel Cournot - Martinique
André Breton - Fronton-virage
Jean Ferry - La Chaîne de « Poussière de soleils »
Édith Boissonnas - Fatras
Jean Dubuffet - Les silex de Juva
Marcel Lecomte - La confrontation
Emily Dickinson - Lettres et poèmes
See also
1 Work
False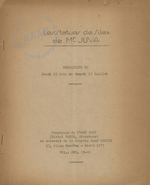 Click to order the image
Catalogue de la Compagnie de l'Art Brut publié chez René Drouin à Paris.
11 images, une notice descriptive, un lien.