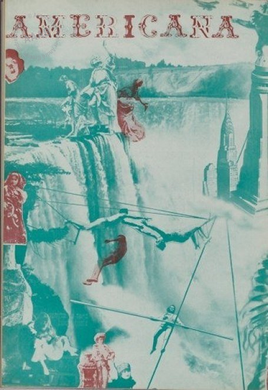 View, 2e série, n° 4
Americana Fantastica
Author
Compositeur Virgil ThomsonEdited by Charles Henri FordIllustrated by Kennedy Blanchard, Joseph Cornell, Thomas Eakins, Kay Sage, Florine StettheimerCover design by Joseph CornellPhotographs by Helen Levitt, George Platt Lynes, Bern PorterText by Kennedy Blanchard, Hugh Chisholm, Joseph Cornell, Alva N. Turner, Parker Tyler, Charles Henri Ford
Description
Dernier numéro de la deuxième série de la revue View, paru en janvier 1943 chez Charles Henry Ford à New York.
Numéros importants consacrés à Max Ernst, à Tanguy, au fantastique, etc.
Nombreuses reproductions et illustrations d'œuvres de Max Ernst, Yves Tanguy, André Masson, etc.
(cartonnage décoloré par endroit). [catalogue de la vente, 2003]
« Pale green covers by Joseph Cornell. » (source : Laurence McGilvery)
Table of Contents
Authors (order of appearance):
Parker Tyler – Americana fantastica
Joseph Cornell – The crystal cage
Alva N. Turner – A manuscript found in an iceberg
Hugh Chisholm – Extraordinary portable machine useful for the purpose of extracting blood from stones
Charles Henri Ford – A ballet for Tamara Toumanova
Kennedy Blanchard – Whippoorwill girl
Reproductions:
George Platt Lynes – City of irrational
J.C. – Crystal Cage (untitled) / The Crystal Cage (photo) / The Childhood of Blondin / The World of Berenice (untitled) / Berenice of 1900 gazing into her own past & future
Bern Porter – American beauty
J.C. – Spent meteor, etc.
Helen Levitt – Knight in Harlem
Joseph Cornell – Medici slot-machine / Souvenir d'Edison / Fantastica America
Kay Sage – Extraordinary portable machine useful for extracting blood from stones coming
Helen Levitt – Going
J.C. – "…like a net of stars…"
George Platt Lynes – Blanchard as Boreas
Blanchard - Montage
Kennedy Blanchard – Homunculus
Thomas Eakins – Mrs. Frishmuth
Florine Stettheimer – Cathedrals of Broadway
Florine Stettheimer – Cathedrals of Fifth Avenue
Florine Stettheimer – Portrait of Virgil Thomson
Miscellaneous:
Children's page
Poems by workers of the American type foundry
Virgil Thomson – Portrait of Florine Stettheimer (complete score)
| | |
| --- | --- |
| Bibliographical material | New York, Charles Henry Ford, vol. 2, n° 4, janvier 1943. In-8°, couverture illustrée par Joseph Cornell. |
| Issue | 4 |
| Date of publication | Janvier 1943 |
| Publication | first publication |
| Languages | English |
| Publisher | Charles Henri Ford, New-York |
| Reference | 6757000 |
| Breton Auction, 2003 | Lot 1152 |
| Keywords | Painting, Poetry, Reviews and Journals, Surrealism |
| Categories | Journals |
| Set | [Journal] View |
| Permanent link | https://www.andrebreton.fr/en/work/56600101001373 |