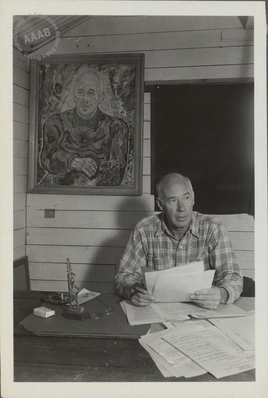 Description
Portrait photographique de Henry Miller pris en 1946 dans son studio à Big Sur.
Photographie originale représentant Henry Miller jointe à l'exemplaire de Tropique du Capricorne avec texte autographe signé par lui au verso. [catalogue de la vente, 2003]
Le portrait à la droite de Henry Miller a été réalisé par Beauford Delaney en 1944 :
« Henry Miller and Beauford met for the first time in New York during the early 1940s. Miller visited Beauford's Greene Street studio in the fall of 1943 and Beauford painting a stunning portrait of him in 1944. Beauford showed the painting during a group exhibition in New York in 1945 and had it shipped to Miller's home in Big Sur in 1946. An image of the portrait was included in a 1971 Playboy article about Miller. [...] » (Extrait d'un article du site web des Amis de Beauford Delaney, en anglais) [site André Breton, 2021]
See also
1 Work
False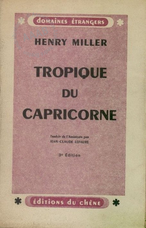 Click to order the image
Roman de Henry Miller publié en 1946 aux Éditions du Chêne à Paris.
Trois images, une notice descriptive, un lien.