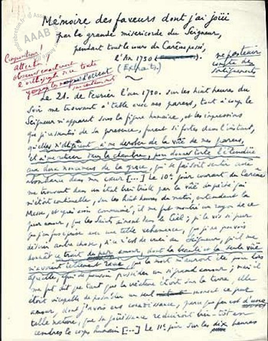 Description
Copie manuscrite d'un texte de Marie-Catherine Cadiere, par Gilbert Lély.
Extraits, 7 pages in-4° comportant des ratures et corrections de Gilbert Lély, avec une note pour l'imprimeur.
Ce texte de Marie-Catherine Cadiere est relatif à la procédure sur laquelle le père Jean-Baptiste Jirard jésuite, Catherine Cadiere ont été jugés par arrêt du Parlement de Provence du 10 octobre 1737. [catalogue de la vente, 2003]
Manuscrit inséré dans le livre Ma civilisation de Gilbert Lély que Breton conserve dans sa bibliothèque. [site André Breton, 2020]
See also
1 Work
False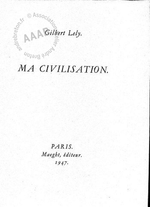 Click to order the image
Poèmes publiés chez Aimé Maeght à Paris en 1947.
Une image, une notice descriptive, un lien, des œuvres associées.