Le Seuil du jardin, de André Hardellet
Author
Author Gilbert GuezPeople cited Alain-Fournier, Charles Baudelaire, Louis Jacques Napoléon Bertrand, dit Aloysius Bertrand, Paul Cézanne, André Dhôtel, André Hardellet, Aristide Maillol, Stéphane Mallarmé, Gérard de Nerval, Marcel Proust, Auguste Renoir, André Breton
Description
Article de Gilbert Guez non daté, issu d'un journal non identifié.
Coupure de presse insérée dans le Seuil du Jardin, exemplaire conservé dans la bibliothèque de Breton. [site André Breton, 2019]
See also
1 Work
False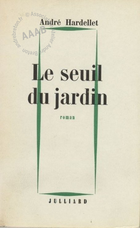 Click to order the image
Roman d'André Hardellet publié chez Julliard à Paris en 1958.
Trois images, une notice descriptive, un lien, une œuvre associée.