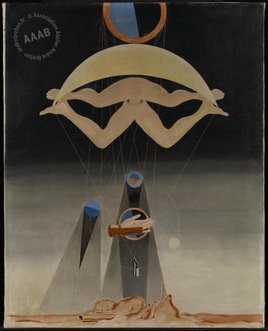 Description
Huile sur toile de Max Ernst peinte en 1923.
Inscription et dédicace au dos :
«  LES HOMMES N'EN SAURONT RIEN
Le croissant (jaune et parachute) empêche que le petit sifflet tombe par terre. Celui-ci, parce qu'on s'occupe de lui, s'imagine monter au soleil.
Le soleil est divisé en deux pour mieux tourner.
Le modèle est étendu dans une pose de rêve. La jambe droite est repliée (mouvement agréable et exact)
La main cache la terre. Par ce mouvement la terre prend l'importance d'un sexe.
La lune parcourt à toute vitesse ses phases et éclipses.
Le tableau est curieux par sa symétrie. Les deux sexes se font équilibre.
à André Breton
très amicalement
Max Ernst » [Tate Modern et site André Breton 2019]
Bibliography
André Breton, la beauté convulsive, Paris, Musée national d'art moderne/Centre Georges Pompidou, 1991, rep.p.141.
André Breton, Nadja, Paris, Gallimard, 1928, p.164, repr. p.174.
Werner Spies, Max Ernst : Werke 1906-1925, Houston, Menil Fondation, 1975, n° 653, p.339.
Geoffrey Hinton, « Max Ernst : Les Hommes ,'en Sauront Rien », Burligton Magazine, n°117, 1975, p.292-299, repr. p.297. 
Max Ersnt œuvres de 1919 à 1936, Paris, Cahier d'Art, 1936, p.170.
John Rothenstein, The Tate Gallery, Londres, Thames and Hudson Ltd, 1966, p.172.
Ronald Alley, Catalogue of the Tate Gallery's Collection of Modern Art other than Works by British Artists, Londres, Tate Gallery and Sotheby Parke-Bernet, 1981, p. 206-209, repr. p. 206
| | |
| --- | --- |
| Creation date | 1923 |
| Physical description |  Huile sur toile - Support : 803 x 638 mm cadre : 970 x 806 x 62 mm |
| From / Provenance | Ancienne collection d'André Breton, Paris (don de l'artiste, sd). Collection Eva Sulzer, Mexique (sd). Collection Gordon Onslow-Ford, Californie (sd). Richard Feigen Gallery, Chicago (sd). Achat par la Tate Gallery, Londres (1960). |
| Museum | |
| Size | 80,30 x 63,80 cm |
| Copyright | © ADAGP, Paris and DACS, London 2019 |
| Keywords | Painting, Surrealism |
| Categories | Modern Paintings |
| Set | [Exhibitions] 1938, International Exhibition os Surrealism |
| Exhibitions | 1938, Exposition internationale du surréalisme ,  Max Ernst , André Breton, La Beauté convulsive |
| Permanent link | https://www.andrebreton.fr/en/work/56600101000405 |
Exhibition place