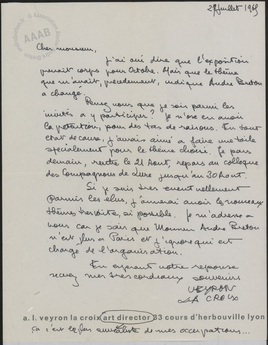 Description
Lettre de Veyron La Croix à José Pierre datée du 28 ou 29 juillet 1965 et transmise à André Breton.
Chargé de la « Mécanique de grabuge » dans la préparation de l'exposition L'Écart absolu, José Pierre envoie ces trois lettres (et les textes afférents) à Breton au cours de l'été 1965. Il y évoque les questions habituelles : confection du catalogue, œuvres et artistes à solliciter, tout en communiquant à Breton diverses pièces de sa correspondance. On notera la présence du manuscrit d'une notice destinée au catalogue : « Changer la femme », au titre d'inspiration rimbaldienne, et qui fait référence à la Juliette de Sade et à l'Ellen du Surmâle. [site Atelier André Breton, 2005]
Lettre autographe, datée 18 juillet [1965].
1 page in-8° d'une lettre de Veyron La Croix à José Pierre, transmise par son destinataire à André Breton.
Le peintre souhaite participer à l'exposition quel que soit le thème choisi en définitive. [site André Breton, 2019]
See also
1 Work
False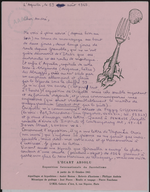 Click to order the image
-

Lettre de José Pierre à André Breton, datée du 19 août 1965.
Deux images, une notice descriptive, un lien.