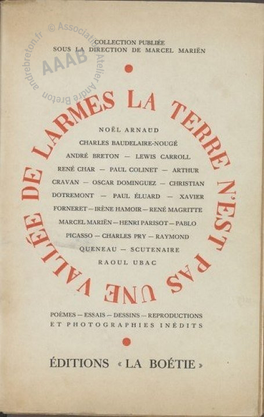 La terre n'est pas une vallée de larmes
Author
People cited Charles Baudelaire, Arthur Cravan, Xavier Forneret, Lewis CarrollContributions by Christian Dotremont, Irène Hamoir, Marcel Mariën, Paul Nougé, Louis Scutenaire, dit parfois Jean Scutenaire, Raoul Ubac, Noël Arnaud, André Breton, René Char, Oscar Dominguez, Paul Éluard, René Magritte, Henri Parisot, Pablo Picasso, Charles Pry, Raymond QueneauEdited by Marcel Mariën
Description
Texte collectif publié aux éditions de la Boétie à Bruxelles en 1945.
Édition originale de cet ouvrage collectif publié sous la direction de Marcel Marïen. Textes de Breton, Char, Cravan, Dotremont, Marïen. Illustrations d'œuvres de Magritte, Ubac, etc. [catalogue de la vente, 2003]
Le Sudoc précise : « Poèmes, essais, dessins, reproductions et photographies inédits » [site André Breton, 2020]
See also
1 Work
False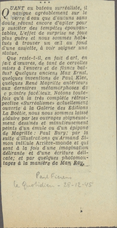 Click to order the image
-

Article de Paul Fierens paru dans Le Quotidien du 28 décembre 1945.
Une image, une notice descriptive, un livre associé.