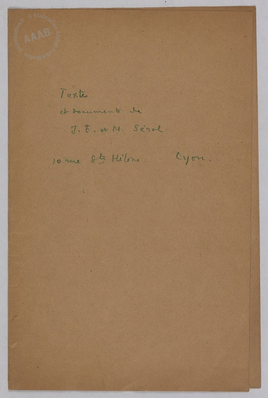 Description
Set of manuscripts addressed to The Surrealist Revolution and organized in a folder titled by André Breton "Texts and documents by J. E. and M. Sérol, Lyon".
Sérol: literary men, literary fools, or simply fools? We would rather be inclined to favor the third solution, skimming through these manuscripts, reading disturbing notations made in the ambit of paranoia. But the group, at the time of The Surrealist Revolution, still favored the idea of neurosis, in spite of the Nadja episode. It's not until Dali and the young Lacan that the surprising creative power of psychosis shall be eventually acknowledged. [Atelier André Breton site, 2005]
Handwritten manuscripts signed, undated.
Set of poems proposed to the group and refused for publication.
Images 107-116. - 10 autograph poems signed by E. Serol, 10 pages in-16. [Auction catalogue, 2003]
See also