Description
Fragment de pierre fine de couleur vert d'eau.
Minéral disposé dans le meuble petite maison bibliothèque avec les ouvrages de romantiques allemands. Objet dont il n'existe pas de reproduction photographique pour l'instant. [site André breton, 2014]
Exposition.
- Cahors, Musée de Cahors Henri-Martin, La Maison de verre, André Breton, initiateur découvreur, 20 septembre - 29 décembre 2014
See also
1 Work
False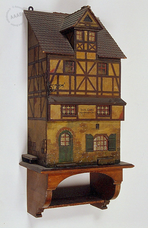 Click to order the image
-
Petit meuble de bibliothèque en bois peint, 19e siècle. Deux images, une notice descriptive, une bibliothèque, une exposition.