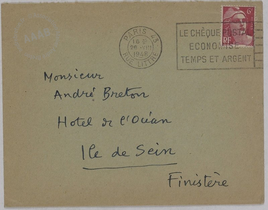 [Parisot et Geneviève ont repris hier...]
Lettre datée de Paris, le 26 août 1948
Author
Author Jean DubuffetPeople cited Aloïse Corbaz, dite Aloïse, Alphonse Benquet, Aristide Caillaud, Marie Canavaggia, Capderoque, Cattiaux, Fleury Joseph Crépin, Jean Dequeker, Drouin, Duquet, Giordano Falzoni, Jacqueline Forel, Gaston Gallimard, Pierre Giraud, Joaquim Vicens Gironella, Louis Guillaume, René Guilly, Chichio Haller, Miguel Hernandez, Hector Hyppolite, Juva, Jean L'Anselme, Ladame, Lötschental, Pascal-Désir Maisonneuve, Marboeuf, Walter Morgenthaler, Heinrich Anton Müller, Xavier Parguey, Pinkhonson, Eugène Pittard, Charles Ratton, Henri-Pierre Roché, Jean Roger, Salingardes, Oskar Schmid, Scottie, Jacques Senné, Geneviève Serreau, Michel Tapié, Robert Tatin, Berthe Urasco, Véreux, Jakob Wyrsch, Adolf Wölfli, Édouard-Léon-Théodore Mesens, Henri Parisot, Jean Paulhan, Benjamin PéretLetter to André Breton
Description
Lettre de Jean Dubuffet adressée à André Breton le 26 août 1948 avec une liste de chapitres pour l'Almanach.
Joseph Crépin, Gironella, Wölfli, Hippolyte, Hernandez sont au centre de cet ensemble de lettres de Jean Dubuffet à André Breton. En 1948, autour de la Compagnie de l'Art brut, dont nous avons ici les statuts et à laquelle appartiennent également Jean Paulhan, le critique Michel Tapié, le romancier Henri-Pierre Roché (l'auteur de Jules et Jim) et le galeriste Charles Ratton (spécialisé dans l'art primitif et avec lequel Breton était en contact depuis la fin des années 1930), divers projets voient le jour : animation du Foyer de l'art brut, expositions (Wölfli). Le plus intéressant est cet Almanach de l'art brut dont Dubuffet assure la coordination et dont il envoie ici le plan à Breton. On remarquera particulièrement, dans cette liasse de lettres, celle du 28 septembre 1948, souvent citée, qui voit Dubuffet proposer de dresser un « monument à l'oubli ». On notera aussi que c'est autour du moment « art brut » que Breton achève de se tourner en priorité vers la critique d'art, qui l'occupera presque exclusivement pendant près de vingt ans. [site Atelier André Breton, 2005]
Lettre tapuscrite et autographe, 26 août 1948.
Placé sous chemise cartonnée titrée "L'Art brut" dans un dossier constitué par André Breton, l'ensemble comporte 8 lettres (11 pages in-12 et 1 page in-4° avec enveloppes). Celle-ci forme trois pages, et elle est accompagnée d'une liste de chapitres qui formeront l'Almanach. [Catalogue de la vente, 2003]
Place of origin
Place of destination
See also
1 Work
False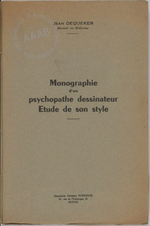 Click to order the image
 Thèse adressée par son auteur à André Breton et publiée en 1948.
Trois images, une notice descriptive, un musée.