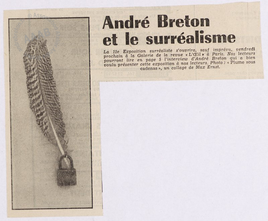 Description
Joints à la lettre de Jean Schuster datée du 12 juillet 1965, cette coupure de presse et cet article de Gabriel Matzneff.
Parmi ces quelques coupures de presse mondaines ou intellectuelles suivant les journaux et les magazines consacrées à l'exposition L'Écart absolu et conservées par Breton, on notera la présence d'une chronique assez violemment réactionnaire de Gabriel Matzneff qui, sans avoir de lien avec l'exposition, fait écho au texte de José Pierre paru dans le catalogue : « Changer la femme ». [Site Atelier André Breton, 2005]

Candide, Le Nouvel Observateur, Arts, Tribune de Lausanne, Le Figaro, Journal français du Mexique, ARTS
Place of origin
Exhibition place
See also
1 Work
False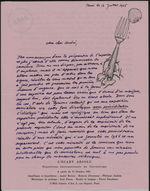 Click to order the image
-

Lettre de Jean Schuster à André Breton datée du 12 juillet 1965.
Trois images, une notice descriptive, des liens.