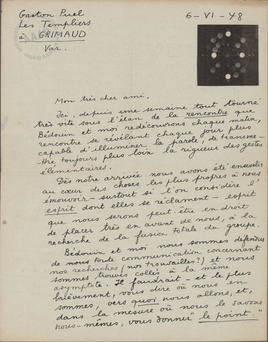 [Ici, depuis une semaine, tout tourne...]
Lettre datée de Grimaud, le 6 juin 1948
Author
Authors Anne Bédouin, Inès Puel, Gaston Puel, Jean-Louis BédouinPeople cited Elisa Claro Breton, Karl Marx, Arthur Rimbaud, Victor Brauner, Jean-Louis Bédouin, Malcolm de ChazalLetter to André Breton
Description
Lettre de Gaston Puel à André Breton datée de Grimaud, le 6 juin 1948.
Alors très proche d'un surréalisme dont il s'éloignera ensuite pour se situer dans le sillage de Char et de Bousquet, Gaston Puel a vingt-quatre ans en 1948, lorsqu'il écrit cette lettre enthousiaste à Breton. Il y évoque un projet de livre-objet intitulé La Rencontre, auquel il travaille avec Jean-Louis Bédouin. Celui-ci signe un post-scriptum qui confirme son adhésion au projet, mais il semble bien que le livre n'ait jamais vu le jour. Gaston Puel publiera en revanche, comme en manière d'épilogue, La Jamais Rencontrée chez Seghers deux ans plus tard. [site Atelier André Breton, 2005]
Lettre autographe signée à André Breton, Grimaud, 6 juin 1948.
7 pages in-4°, lettre autographe signée de Gaston Puel à André Breton illustrée d'un petit collage et de 2 enluminures. La lettre, également signée par Inès Puel, Anne et Jean-Louis Bédouin, est relative aux travaux de Gaston Puel et Jean-Louis Bédouin. Enveloppe non conservée. [catalogue de la vente, 2003]
See also
1 Work
False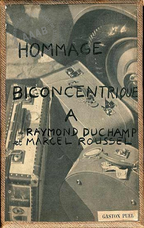 Click to order the image
Livre-objet unique, créé à Albi en 1948.
Une image, une notice descriptive, une lettre associée.