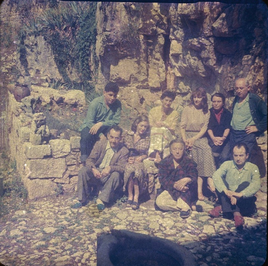 Description
Photographie de groupe prise par Man Ray à Saint-Cirq-Lapopie dédicacée à André Breton.
Photographie de groupe avec Man Ray, André Breton, Benjamin Péret, Wolfgang Paalen, Julie Man Ray, Elisa Breton, Toyen, Georges Golfdfayn et une jeune femme.
Annotation manuscrite au dos : « St-Cirq-Lapopie Chère Elisa souvenirs, souvenirs Man Ray » (image du dos manquante).
Sur un petit carton à part annotation manuscrite de Man Ray : « Pour André Breton bons souvenirs Julie et Man. »
Exposition.
- Jérusalem, Musée d'israël, Dada Surrealism and Beyond in the Israel Museum, 2007 (autre photographie de la même série).
1 Comment
Cette photographie ne peut pas dater de 1963. je vous rappelle que Péret est mort en 1959!
03/07/2009