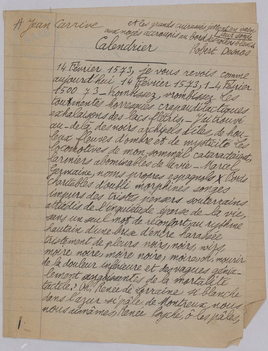 Description
Manuscrit d'un texte signé de Pierre Picon, dédié à Jean Carrive, non daté.
Jean Carrive, ou Pierre Picon ? Le titre du dossier, de la main de Breton, mêle les deux noms ; qui s'aventure à l'intérieur comprend vite que l'ensemble des textes est de Carrive, quelques feuillets seulement, à en croire une note manuscrite de Carrive glissée dans le dossier, étant « attribués à Picon pour voir la gueule des gens » (ces feuillets étaient destinés à une publication dans la Revue européenne de novembre 1924). Pour l'essentiel, il s'agit ici de textes automatiques, à quoi s'ajoute un fragment de journal de 1922 « recopié en juin 1924 ». L'ensemble paraît avoir été écrit au début des années 1920. On notera que le jeu des dédicaces et des épigraphes installe clairement Breton, et dans une moindre mesure Eluard, à la tête d'un mouvement voué, pour les autres, à l'échange d'identités. On attribue ses textes à un autre, on note leur ressemblance avec « ceux de Soupault ». Et telle est en effet l'écriture automatique qu'elle tend à gommer les différences, le style. De la « littérature », il en reste pourtant dans ces textes, ne serait-ce que dans l'appareil de titres et de dédicaces qui viennent les inscrire dans une tradition, les situer dans une perspective. Il en subsiste aussi dans le vocabulaire choisi, dont quelques termes comme l'« azur » conservent même une couleur symboliste.
Manuscrit autographe
- 1 manuscrit autographe titré « Calendrier », dédié à Jean Carrive et signé Pierre Picon (2 pages 1/2 in-4°)
See also
2 Works
False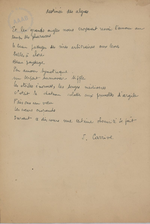 Click to order the image
-
Copié par Robert Desnos, un poème de Jean Carrive signé Jean Carrive.
Une image, une description, des liens.
False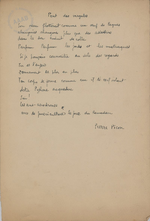 Click to order the image
-
Copie annotée par Robert Desnos d'un poème signé Pierre Picon, non daté.
Une image, une description, des liens.