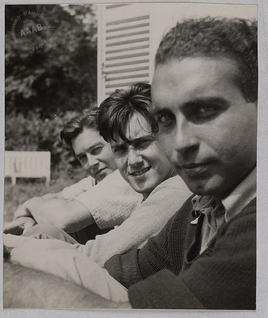 Description
Photographies prises à Chemillieu en 1939, dont plusieurs portraits de Matta, Onslow-Ford et Francès.
Neuf tirages. Les six premiers représentent Roberto Matta, Gordon Onslow-Ford et Esteban Francès. Les trois autres tirages représentent des vues de la maison devant laquelle les photographies ont été prises et 3 autres photographies des mêmes le même jour. [catalogue de la vente, 2003]
Bibliography
- Martica Sawin, Surrealism in Exile and the beginning of the New York School, Cambridge, Massachussetts, MIT Press, 1995, rep.p. 58 (autre tirage)
- Gérard Durozoi, Histoire du mouvement surréaliste, Paris, Hazan, 1997, rep.p. 359 (autre tirage)
See also
1 Work
False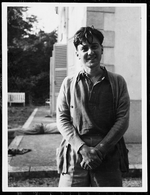 Click to order the image
Deux portraits de Roberto Matta à Chemillieu en 1939.
Deux images, une notice descriptive à compléter.