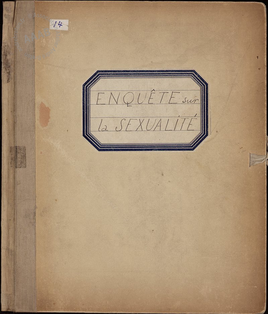 Description
Folder with handwriting, "Investigation on sexuality" (1928-1932) published in issues n° 11 and 12 of The Surrealist Revolution.
The most significant elements of this famous "Investigation on Sexuality," the complete collection of which we have here, published in the penultimate, and last issue of The Surrealist Revolution. As Breton will recall in 1952, the purpose was to establish a degree of objectivity, individual resolution, and a sense of consciousness involved (Entretiens). "The fiftieth anniversary of hysteria" had already solicited commentary from Aragon and Breton on photos from the archives of Salpêtrière. At the end of the 1920's, from Desnos' work on defending Chaplin in the tract, "Hands of Love," sexuality appears as an enigma to be questioned, in association with love. This shows that references to Freud were still somewhat insubstantial at the beginning of the 1920's. The Surrealists would be liberated... [Atelier André Breton website, 2005]
Folder with handwriting, 1928-1932.
-Folder titled by André Breton: "Investigation on sexuality." In January 1928, the Surrealists organized and engaged in discussions on sexuality. There were 12 sessions on the theme, and the last one took place on August 1st, 1932. [Auction catalogue, 2003]
When reading issues n° 11 and 12, it seems that these investigations differ. One is a survey on sexuality (n° 11) assessed during the Surrealist gatherings, the other is about love (n° 12), and addresses a larger public. [André Breton site, 2013]
Bibliography
- « Recherches sur la sexualité, Part d'objectivité, déterminations individuelles, degré de conscience », La Révolution surréaliste, n° 11, 15 mars 1928, p. 32-40.
- « Enquête », La Révolution surréaliste, n°12, 15 décembre 1929, p. 65-76.