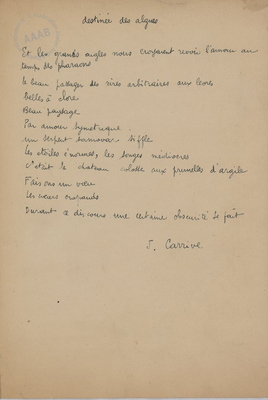 Description
Copié par Robert Desnos, un poème de Jean Carrive signé Jean Carrive.
Jean Carrive, qui fut parmi les tout premiers surréalistes, n'a pas laissé beaucoup de textes. Son nom apparaît dans le premier Manifeste du surréalisme, dans la liste de ceux « qui ont fait acte de surréalisme absolu ». Breton lui règlera son compte dans le Second manifeste. Sa figure s'estompe ensuite, à la fois du monde littéraire, et du groupe surréaliste. Le poème qui figure ici n'est pas sans évoquer la façon dont un Desnos rejoue des formules et des lieux communs : ces « châteaux » aux « prunelles d'argile », par exemple, font inévitablement penser au biblique « géant aux pieds d'argile ». La construction, toutefois, est plus souple, moins systématique que chez Desnos.

Manuscrit autographe.
- 1 copie manuscrite de Desnos de ce poème signé J. Carrive, une page in-4°.
See also
1 Work
False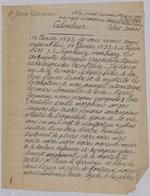 Click to order the image
-
Manuscrit d'un texte signé de Pierre Picon, dédié à Jean Carrive, non daté.
Trois images, une description à compléter.