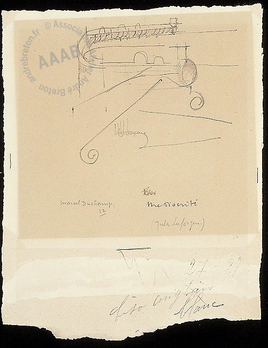 Description
Dessin au crayon sur papier daté de 1912 inspiré à Duchamp par un poème éponyme de Jules Laforgue.
Signé et daté en bas à gauche : Marcel Duchamp 12 ; Titré en bas vers la droite : médiocrité.
« Le dessin Médiocrité a été inspiré par un poème du même nom de l'écrivain symboliste Jules Laforgue (1860-87). En 1966, Duchamp rappelle : "J'aimais beaucoup Laforgue. Je n'étais pas très littéraire à ce moment. Je lisais peu, surtout Mallarmé. J'aimais assez Laforgue, et je l'aime encore plus aujourd'hui, bien que son héritage ait disparu. J'étais particulièrement intéressé par l'humour de ses Moralités légendaires." » Arturo Schwarz (The complete works of Marcel Duchamp, Revised and Expanded Paperback Edition, New York, Delano Greenidge Editions, 2000, p. 554).
Expositions
- Hannover, Kestner Gesellschaft, Marcel Duchamp, même, 1965
- Philadelphia, Philadelphia Museum of Art ; New York, The Museum of Modern Art ; Chicago, The Art Institut of Chicago, Marcel Duchamp, 1973-1974, n° 92 (étiquette au dos)
- Paris, Musée national d'art moderne/Centre Georges Pompidou, André Breton, la beauté convulsive, 1991, rep.p. 149, p. 485
Bibliography
- Arturo Schwarz, The complete works of Marcel Duchamp, Revised and Expanded Paperback Edition, New York, Delano Greenidge Editions, 2000, rep. p.554, n° 231, rep. n° 48, p. 312 (daté 1911)