Description
Lettre de Raoul Ubac à André Breton, non datée.
- 1 lettre autographe signée de Raoul Ubac adressée à André Breton en 1946 relative à son retour (une page à l'encre). [catalogue de la vente, 2003]
See also
1 Work
False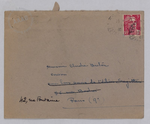 Click to order the image
-

Lettre d'une admiratrice à André Breton, postée en 1948.
Trois images, une notice descriptive, des liens.