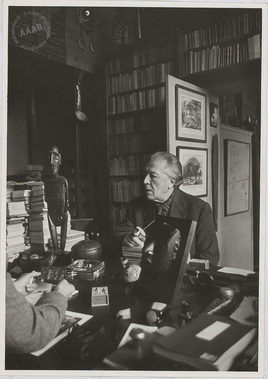 Description
Deux photographies d'André Breton rue Fontaine par François René Roland, c. 1962-1964.
Tampon au dos de chaque tirage : « Photo François René Roland R. L 19 » (images du dos manquantes).
Deux portraits à son bureau ; le premier avec une statue d'ancêtre Moaï papa de l'Île de Pâques (cat. vente 6145) et un masque anthropomorphe du Mexique (aujourd'hui au musée du quai Branly)
Avant l'acquisition d'Uli en 1964
[Anne Egger, 2023, Atelier André Breton]
Place of origin
See also
3 Works
False
-

Boîte probablement tlingit d'Alaska, fin 19e début 20e siècle.
Une image, une notice descriptive, une bibliothèque, une exposition.
False
Anthropozoomorphic face , polished with age and painted in black and red arabesques on a white background.
False
-
Portrait de Dora Maar, par Pablo Picasso, huile sur papier datée de 1939.
Deux images, une notice descriptive à compléter, des expositions, une bibliographie.