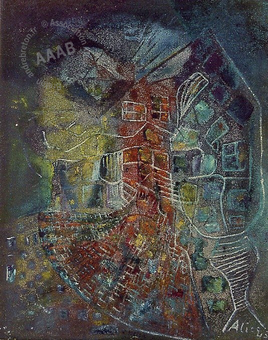 Description
Technique mixte sur toile datée de 1945 et dédicacée à Elisa Breton.
Peinture signée et datée en bas à droite : Alice 45 ; signée, située, datée, titrée et dédicacée au dos : Alice Rahon Paalen N-Y 45 « La femme qui neige » à Elisa, son amie, Alice.
« Poète et peintre française [...] mariée à Wolfgang Paalen, faisant partie du groupe surréaliste vers la fin des années 30. En 1939, elle et Paalen s'installent au Mexique où elle commence à peindre, écrire des poèmes et dessiner pour Dyn. » Whitney Chadwyck (Women artists and the surrealist movement, New York, Whitney Chadwick, 1985, p. 242).
« Quand les peintures d'Alice Rahon furent accrochées pour la première fois à l'exposition de la Galeria de Arte Mexicano, il y avait, dès l'entrée, une impression de changement et de vitalité. Un premier tour suffisait à montrer à quel point les tableaux étaient habités par la puissance d'une personne et d'une civilisation. Il y a chez elle de l'innovation et de l'héritage, disposant consciemment ou inconsciemment de trésors amoncelés, une accumulation de générations [...] qui n'a d'autres raisons que "parce que c'est mieux comme ça" » Jacqueline Johnson (« Exposition Alice Paalen », in : Dyn, n° 6, novembre 1944, p. 21).
« Montrée du doigt comme les étoiles
aux limites ruisselantes de l'or invivable
à la cîme des arbres sans voler
quand aux flancs des montagnes
les maisons des hommes se chauffent les côtés
j'ai porté ma vie
comme ce soleil se porte d'un mur à l'autre
dans cette rue
sous le balcon de l'étrangère
pleurant dans ses cheveux
quand l'amarante berce le vent
et que les roses élèvent
les plus hautes tours de sentir
de mes doigts
cambrés comme l'aile de l'épervier
tombe l'oiseau frégate
solitaire
tombe. »
Alice Paalen (« à l'Ixtaccihuatl », in : Dyn, n° 1, avril-mai 1942, p. 45).