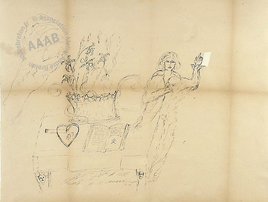 Description
Ink drawing on paper tablecloth, from 1926, the year Nadja and André Breton met.
"André? André?…You will write a novel about me. I'm sure you will. Don't say you won't. Be careful: everything fades, everything vanishes. Something must remain of us."
It's October 4, 1926, on rue Lafayette, and André Breton sees Nadja for the first time. Straightaway, he feels a kind of vertigo, not just love but also fascination with this woman. She immediately strikes him as a character. Different, Nadja? She will be declared insane in March 1927, and perhaps she already has the aura of madness, but it's a more subtle difference that makes men stare. The strangeness of coiffure and makeup, the indescribable abyss, makes her their focus. Her name, borrowed from an American actress, simultaneously suggests exoticism and fiction.
"Nadja, because in Russian it's the start of hope, and because this is only the beginning." These words, these images, are so many hermetic oracles that the poet must fiercely try to decipher. They place the young woman's life under the sign of clairvoyance, of permanent invention; of what we call poetry, in the purest sense of the term. In her manner and through her madness, Nadja was the living incarnation of surrealism.
But there's something more. The young woman, really named Leona D., is in a situation of absolute poverty, and so, though Breton is hardly wealthy, he gives her one of his paintings. Their relationship is sealed by necessity—the necessity of a fatal encounter, and also that of need, and of lack. Into this chasm plunges a story almost condemned from the start. It will result in the sinking of Nadia. To flounder, to sink: a fascinating but unbearable adventure. The lovers see each other continually for one marvelous week, until October 13, after which Breton spaces out their meetings. The stop seeing each other February 1927, one month before the young woman sinks definitively into insanity.
Then begins the other story of Nadja. If the poet meant to see Nadja again, as indicated by a correspondence with a doctor, which is now kept in Breton's archives, he won't do anything about it. Their history is condemned to the past.
It is in pain, during the summer of 1927, that Breton begins to write what will become one of his great works. He completes the first two chapters in a manor in Ango, a few kilometers from Aragon, who is writing his Treaty on Style with discouraging ease. In September, Breton charges Boiffard, Man Ray's assistant, with making photographs to illustrate the book along with the drawings he kept of Nadja. In November, a chance meeting with Suzanne Muzard, Emmanuel Berl's mistress, illuminates his way through the last pages of a story celebrating the woman who left in the night.
Breton will never see Nadja again—but Nadja, the book, accompanies him from then on, as the work that definitively cast him as a writer of the first order. Would the story end there? Not quite. After the war, a false Nadja sends him a series of delirious letters, which the poet keeps in his archives. But the real Nadja died in 1941.
Bibliography
- Paris, Musée national d'art moderne-Centre Georges Pompidou, André Breton, La beauté convulsive, 1991, rep. p. 277