Description
Roman mythique de Malcom de Chazal publié en 1951 par Standard Printing establishment à Port-Louis. 
Édition originale du plus célèbre texte de Malcolm de Chazal, tiré à 400 exemplaires numérotés.
Envoi autographe daté 1951 et signé de Malcolm de Chazal à André Breton. 
See also
1 Work
False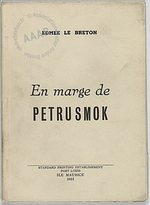 Click to order the image
Récit de Edmée Le Breton publié en 1951 à Port-Louis par l'Imprimerie Almadinah.
Cinq images, une notice descriptive, un lien.