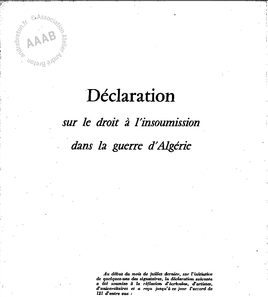 Déclaration sur le droit à l'insoumission dans la guerre d'Algérie
fréquemment appelée « Le Manifeste des 121 »
Author
Authors Maurice Blanchot, Gérard Legrand, Dionys Mascolo, Jean Schuster, André BretonPeople cited André Malraux, Romain Rolland, Arthur Adamov, Robert Antelme, Raoul Auclair, Jean Baby, Hélène Balfet, Marc Barbut, Robert Barrat, Simone de Beauvoir, Jean-Louis Bédouin, Marc Beigbeder, Robert Benayoun, Roger Blin, Arsène Bonnafous-Murat, Geneviève Bonnefoi, Raymond Borde, Jean-Louis Bory, Pierre Bost, Pierre Boulez, Vincent Bounoure, Guy Cabanel, Georges Condominas, Hilaire Cuny, Jean Czarnecki, Dr Jean Dalsace, Hubert Damisch, Adrien Dax, Louis-René des Forêts, Bernard Dort, Jean Douassot, Simone Dreyfus, Marguerite Duras, Yves Elléouët, Dominique Éluard, Charles Estienne, Dr Théodore Fraenkel, André Frénaud, Louis Gernet, Jacques Gernet, Édouard Glissant, Anne Guérin, Daniel Guérin, Jacques Howlett, Édouard Jaguer, Pierre Jaouën, Gérard Jarlot, Robert Jaulin, Alain Joubert, Henri Kréa, Robert Lagarde, Monique Lange, Claude Lanzmann, Robert Lapoujade, Henri Lefebvre, Gérard Legrand, Michel Leiris, Paul Lévy, Jérôme Lindon, Eric Losfeld, Robert Louzon, Olivier de Magny, André Mandouze, Maud Mannoni, Jean Martin, Renée Marcel-Martinet, Jean-Daniel Martinet, Andrée Marty-Capgras, François Maspéro, André Masson, Pierre de Massot, Jean-Jacques Mayoux, Jehan Mayoux, Théodore Monod, Lucien Moscovici, Georges Mounin, Maurice Nadeau, Georges Navel, Hélène Parmelin, Marcel Péju, José Pierre, André Pieyre de Mandiargues, Edouard Pignon, Bernard Pingaud, Maurice Pons, Jean-Baptiste Pontalis, Jean Pouillon, Denise René, Alain Resnais, Jean-François Revel, Alain Robbe-Grillet, Christiane Rochefort, Alfred Griot, dit Alfred Rosmer, Gilbert Rouget, Claude Roy, Marc Saint-Saëns, Nathalie Sarraute, Jean-Paul Sartre, Renée Saurel, Claude Sautet, Robert Scipion, Louis Seguin, Geneviève Serreau, Simone Signoret, Jean-Claude Silbermann, Claude Simon, René de Solier, D. de la Souchère, Jean Thiercelin, Dr René Tzanck, Jean Bruller, dit Vercors, Jean-Pierre Vernant, Pierre Vidal-Naquet, Jean-Pierre Vielfaure, Claude Viseux, Ylipe, René Zazzo
Description
Déclaration collective à l'initiative de Dionys Mascolo en soutien au peuple algérien, datée septembre 1960.
« En mai ou en juin 1960, alors que l'insoumission parmi les jeunes appelés, la désertion parmi ceux déjà embrigadés prenaient des proportions alarmantes pour le gouvernement français, on apprenait qu'allait s'ouvrir, en septembre, le procès du "réseau Jeanson".
Mascolo eut l'idée d'une déclaration collective qui, sous prétexte du procès, soutiendrait et justifierait tous ceux qui refusaient de prendre les armes contre le peuple algérien, voire tous ceux qui aidaient activement ce peuple à se débarrasser de la colonisation. »
La genèse de la déclaration :
« Rédaction de deux ou trois versions successives, par Dionys Mascolo et [Jean Schuster]
» Présentation de la dernière de ces versions aux Surréalistes présents à Paris (une quinzaine), qui l'approuvent et la signe après y avoir apporté un petit nombre de modification de détail (Breton et Legrand)
» Envoi du texte à Maurice Blanchot qui en récrit pratiquement la première partie et qui propose cette nouvelle version à André Breton, Claude Roy, Dionys Mascolo et Jean Schuster au cours d'une réunion qui se tient rue Fontaine. Adoption sans discussion, semble-t-il. Nous sommes probablement fin-juin, début juillet.
» Sous le titre provisoire, "adresse à l'opinion internationale", cette version, qui sera définitive, est communiquée immédiatement aux Surréalistes, à Sartre et à Maurice Nadeau. »
Pour plus de détails consulter Tracts surréalistes et Déclarations collectives de José Pierre, Le Terrain Vague éditeur, Paris 1982, tome II (1940-1969).
Sur l'exemplaire représenté ici a été dactylographié le passage suivant :
Depuis sa publication, le 1er septembre 1960, la déclaration ci-dessus a provoqué l'ouverture d'une information contre X.
Jugeant que cette déclaration doit recevoir dans de très brefs délais le plus grand nombre possible de signatures nouvelles, je déclare la contresigner en vue d'une nouvelle publication.
En signant ce texte, j'entends revendiquer avec tous les autres signataires, les responsabilités qu'impliquent sa rédaction, sa publication et sa diffusion, puisqu'en tout état de cause, signer un texte, pour un intellectuel, signifie l'avoir écrit et en être, à tous point de vue, responsable.
(Voir image 4) [Gilles Mioni, 2011]
 Une page sur la censure en octobre 1961 et le Manifeste des 121.
See also
1 Work
False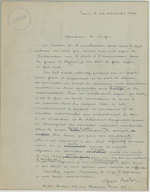 Click to order the image
The papers assembled together in this file relate to what one can call "The Affair of the 121."
2 Comments
Le lien vers la page du texte le Manifeste des 121 n'est pas actif.
(Nous avons déjà échangé sur ce sujet avec Constance Krebs le 04/04/2018 qui avait trouvé) le lien exact :
https://melusine-surrealisme.fr/site/Tracts_surr_2009/Tracts_2_2009_Bis.htm#par_186
16/10/2018
C'est corrigé, merci !
17/10/2018