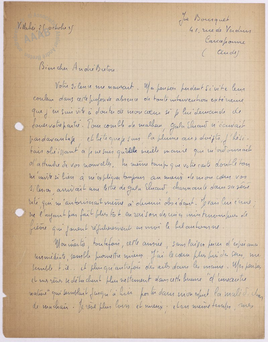 Votre silence me navrait...
Lettre datée du 25 octobre 1925
Author
Author Joë BousquetPeople cited F.-P. Alibert, Aristide Caillaud, Vladimir Ilitch Oulianov, dit Lénine, Pierre Maugan, André Breton, Salvador Dalí, Paul Éluard, André Masson, Elena Dmitrovnia Diakonova, dite Gala Éluard puis Dalí
Description
Une lettre en deux étapes de Joë Bousquet, datée du 25 octobre 1925, pour le bureau de recherches surréalistes.
Deux lettres de Joë Bousquet, qui de sa chambre attend et demande qu'on lui fasse signe. Datées de l'automne 1925, elles ont pour prétexte la longue note rédigée par Breton sur le Lénine de Trotsky. Occasion de poser la question de l'« application politique » du surréalisme, évidente aux yeux de Bousquet.
Cela étant, la lecture du livre le laisse un peu plus froid que Breton, littéralement enthousiasmé pour sa part par le souffle épique d'un Lénine dont Trotsky a fait le promoteur de ses propres thèses (révolution permanente, etc,...). La révolution, pour Bousquet, doit s'approcher d'une « extase », plutôt que de se calquer sur les formes contingentes qu'elle a pu prendre dans la Russie soviétique. [site Atelier André Breton, 2005]
Lettre signée, datée du 25 octobre 1925.
- 6 pages in-4° pour deux lettres de Joë Bousquet :
« Bien cher André Breton, votre silence me navrait. Pour comble de malheur, Gala Éluard n'écrivait pas davantage. En même temps que votre carte dont le ton m'invite si bien à m'expliquer toujours au même de mon cœur vos silences, arrivait une lettre de Gala Éluard, charmante dans sa sévérité, qui m'autoriserait même à devenir obsédant. Je vais lui écrire ; ne l'ayant pas fait plus tôt en raison de crises ininterrompues de fièvre qui jouent régulièrement en moi le bel automne. »
Lettre encartée dans l'exemplaire de Le Passeur s'est endormi, du même Joë Bousquet. [catalogue de la vente, 2003]
See also
1 Work
False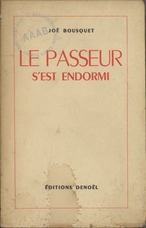 Click to order the image
Roman de Joë Bousquet publié aux éditions Denoël, à Paris, en 1939.
Quatre images, une notice descriptive, un lien.