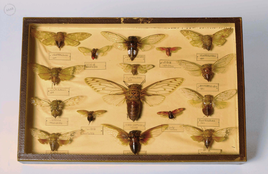 Boîte de cigales
Description
Seize espèces de cigales présentées sur épingles dans une boîte d'entomologie située sur le mur de l'atelier d'André Breton.
Les espèces de cigales ont été classées avec soin. Sous chaque insecte, une étiquette tapée à la machine indique :
Platypleura, sp? (7 specimens), Zaminara tympaneum (1 specimen), Tyrup Anoterpes Gigas (1 specimen), Cicadae exotique (4 specimens), Cryptotympana (2 specimens dont un Javana); l'une des étiquettes est illisible. Il ne s'agit pas de cigales communes en France.
Dans L'Amour fou, Breton évoque une « feuille [...] tel un grand as de pique sans base découpé dans l'aile des cigales. [....] Elle est belle et confondante comme la subjectivité humaine, telle qu'elle ressort plus ou moins hagarde des révolutions humaines. Elle est non moins belle, non moins inextirpable que cette volonté désespérée d'aujourdhui, qui peut être qualifiée de surréaliste aussi bien dans le domaine des sciences particulières que dans le domaine de la poésie et des arts, d'opérer à chaque instant la synthèse du rationnel et du réel, sans crainte de faire entrer dans le mot "réel" tout ce qu'il peut contenir d'irrationnel jusqu'à nouvel ordre. » (André Breton, L'Amour fou, Pléiade II, p. 740-743) [site André Breton, 2015]
| | |
| --- | --- |
| Creation date | sd (avant 1939) |
| Languages | French |
| Physical description | Boite, insectes |
| From / Provenance | sl |
| Place of origin | |
| Museum | Musée national d'Art moderne, Centre Pompidou, Paris : AM 2003-3(237) |
| Method of acquisition and collection | Musée national d'Art moderne, Centre Pompidou, dation André Breton, 2003 |
| Size | 25,80 x 39,00 x 6,00 cm |
| Copyright | Georges Meguerditchian/Centre Pompidou, MNAM-CC |
| Reference | Dation_237 |
| Keywords | entomology, organic items, Wall |
| Categories | Animals, MNAM, centre Pompidou, Museums, Natural and Found Objects |
| Permanent link | https://www.andrebreton.fr/en/work/56600100145140 |
See also
1 Work
False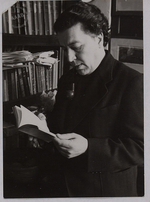 Click to order the image
-
Quatre portraits photographiques d'André Breton rue Fontaine réalisés par Lo Kay vers 1939.
Quatre images, une notice descriptive à compléter.