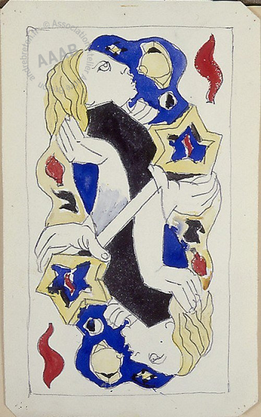 Game of Marseille: Card project: Novalis
Projet de carte : Novalis
Author
By (artist) André Masson
Description
Card for the game of Marseille, 1940. Gouache, pencil, and ink on paper.
Card Project: Novalis.
Exhibitions.
- Marseille, Centre de la Vieille Charité, La planète affolée, surréalisme, dispersion et influences, 1938-1986, 1986, rep.p. 64 of the catalogue.
Bibliography
- VVV, n° 2-3, mars 1943, rep.s.p. (version finale)
- XXe siècle, Le surréalisme I, nouvelle série, XXXVIe année, n° 42, juin 1974, rep. couverture (version finale).
- Aix-en-Provence, Galerie d'Art du Conseil Général des Bouches-du-Rhône, sur les quais, Varian Fry et les candidats à l'exil, Marseille 1940-1941, rep.p. 49 (autre version).
- Martica Sawin, Surrealism in Exile and the Beginning of the New York School, Cambridge, Massachusetts, Massachusetts Institute of Technology, 1995, rep. p. 134.
- Danièle Giraudy, Le Jeu de Marseille, Autour d'André Breton et des surréalistes à Marseille en 1940-1941, Marseille, Éditions Alors Hors du temps, Musée de Marseille, 2003, rep. p. 125.
See also
1 Work
False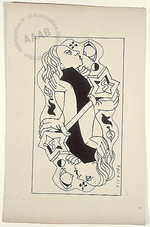 Click to order the image
-
Card for the game of Marseile, 1940. Ink on paper.
One image, one descriptive notice, one bibliography, one exhibition.