12 Surrealists
Exposition présentée au Cincinnati Art Museum du 20 avril au 23 mai 1943.
Exhibition place
1 Work
False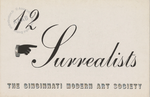 Click to order the image
-
Jean ou Hans Arp, Marc Chagall, Salvador Dalí, Giorgio De Chirico, Marcel Duchamp, Max Ernst, René Magritte, André Masson, Roberto Echauren Matta, Joan Miró, Pablo Picasso, Yves Tanguy
Carton d'invitation à une exposition organisée par la Société d'Art moderne de Cincinnati.
Huit images, une notice descriptive, une exposition.