Victor Brauner, 1965
Exposition présentée du 16 juin au 18 juillet 1965 à la Kestner-Gesellschaft de Hanovre.
Origin of the works (areas, studios) (1)
relwmap_events_labels (1)
1 Work
False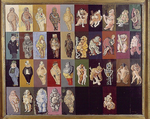 Click to order the image
-
Huile sur toile de 1933 reprenant le personnage de Monsieur K., figure satirique inventée par Alfred Jarry.
Une image, une notice descriptive, une bibliographie, des expositions, un musée.