Henri Rousseau, dit « le Douanier » : exposition de son cinquantenaire
Exposition organisée à la galerie Charpentier du 10 février au 16 avril 1961.

Exhibition place
3 Works
False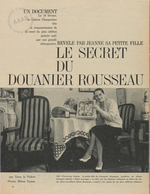 Click to order the image
Article de presse paru en février 1961 avec de nombreuses illustrations, annoté par André Breton.
Sept images, une notice descriptive, un lien.
False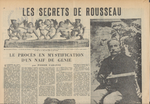 Click to order the image
False
-
Henri, dit le Douanier Rousseau
Catalogue publié en 1961 à Paris à l'occasion d'une exposition organisée par la galerie Charpentier.
Pas d'image, une notice à compléter, un lien.