Discours de Wagram
Discours d'André Breton prononcé le 22 février 1952 à la salle Wagram à Paris.
1 Work
False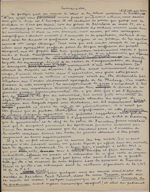 Click to order the image
-

Manuscript written at the request of the CNT on 22 February 1952 in support of eleven Spanish anarchists.
Three images, a descriptive note, a bibliography.