Marcel Duchamp, 1963
Exposition présentée par la Galerie Burén à Stockholm, entre avril et mai 1963.
Exhibition place
1 Work
False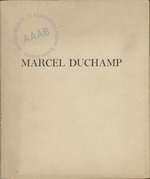 Click to order the image
Catalogue sur Marcel Duchamp écrit par Ulf Linde, paru en 1963 à la Galerie Burén de Stockholm.
Quatre images, une notice descriptive, un lien.