Exposition Zao Wou-Ki
Exposition présentée en 1949 par la Galerie Creuze à Paris.
Il s'agit selon la Galerie Goutal de la première exposition personnelle en France de Zao Wou-Ki. [Site André Breton, 2020]
Exhibition place
1 Work
False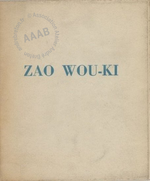 Click to order the image
-

Rare catalogue de l'exposition Zao Wou-Ki à la Galerie Creuze, paru en 1949.
Une image, une notice descriptive, des liens.