Exposition Antoine Pevsner
Exposition présentée par la Galerie René Drouin, du 19 juin au 12 juillet 1947 à Paris.
Exhibition place
1 Work
False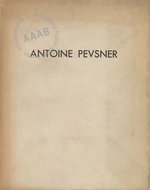 Click to order the image
-

Catalogue de la première exposition des œuvres du sculpteur Antoine Pevsner, publié en 1947.
Deux images, une notice descriptive, un lien.