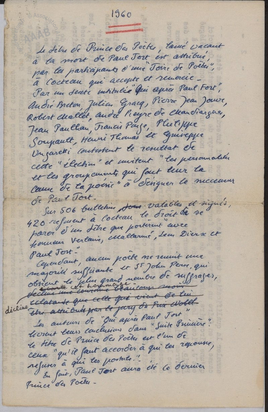 Ephémérides surréalistes
Author
Authors Jean Schuster, André BretonPeople cited Ferdinand Alquié, Dr Joseph-François-Félix Babinski, Nelly Kaplan, dite Belen, Jean Benoît, Maurice Blanchot, Pierre Boujut, Rodolphe Bresdin, Jacques Brunius, Jean Bréjoux, Luis Buñuel, Guy Cabanel, Achille Chavée, Arthur Cravan, Georges Hippolyte Adrien, dit Georges Darien, Léon Dierx, Marguerite Duras, Charles Estienne, Paul Faure, Xavier Forneret, Charles Fourier, Maurice Fourré, Fulcanelli, Jean Gaulmier, Georges Goldfayn, Armel Guerne, Simon Hantaï, Ragnar von Holten, Radovan Ivsic, Édouard Jaguer, Robert Lagarde, Yves Laloy, Jacques Le Maréchal, Gérard Legrand, Stéphane Mallarmé, Emile Mallet, Jean Markale, Dionys Mascolo, Georges Mathieu, J. Mausner, Nora Mitrani, Gustave Moreau, Edgar Morin, Wolfgang Paalen, P.-L. Palau, Oscar Panizza, Jean-Jacques Pauvert, Francis Ponge, Marcel Péju, Arthur Rimbaud, Donatien Alphonse François de Sade, Alexis Léger, dit Saint-John Perse, Friedrich Schröder-Sonnenstern, Jean Schuster, Arturo Schwarz, Jean-Claude Silbermann, Max Walter Svanberg, Maurice Thomas, Giuseppe Ungaretti, Marianne Van Hirtum, Vittorini, Patrick Waldberg, Monique Watteau, Jean ou Hans Arp, Antonin Artaud, Hans Bellmer, Robert Benayoun, Vincent Bounoure, Jean-Louis Bédouin, Roger Caillois, Jean Cocteau, Daniel Cordier, Marcel Duchamp, Jean-Pierre Duprey, Louis Poirier, dit Julien Gracq, Marcel Jean, Pierre Jean Jouve, Robert Lebel, Joyce Mansour, Geneviève Mayoux, Édouard-Léon-Théodore Mesens, Arpad Mezei, Joan Miró, Jean Paulhan, Octavio Paz, Francis Picabia, José Pierre, André Pieyre de Mandiargues, Benjamin Péret, Philippe Soupault, Don C. Talayesva, Marie Cerminova, dite Toyen, Paul Verlaine
Description
(2-20) Ensemble de 19 fiches in-18° manuscrites à l'encre par André Breton, notant les principales parutions et rééditions d'ouvrages de philosophes, poètes surréalistes, tracts, mouvements, revues, etc. de l'année 1955 à 1962.
... « 1958 bis. Max Ernst, par Patrick Waldberg: ouvrage documenté, mais qui prend l'allure d'un règlement de comptes envers des tiers»...
[projet de chronologie pour une réédition des "Manifestes" et note d'un recto de Jean Schuster]
See also
1 Work
False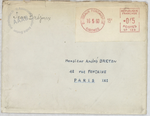 Click to order the image
Lettre de Jean Bréjoux adressée à André Breton, datée du 15 mai 1960.
Cinq images, une notice descriptive.